OSHA Compliance/
Bus Garage Safety Toolkit
Management Tool for School Bus Operations
A School Bus Safety Company Program
The OSHA Compliance/Bus Garage Safety Toolkit is a single source management tool designed specifically for school bus operations. Used properly it will help managers quickly and easily achieve compliance with OSHA regulations in the least amount of time and with the least amount of effort.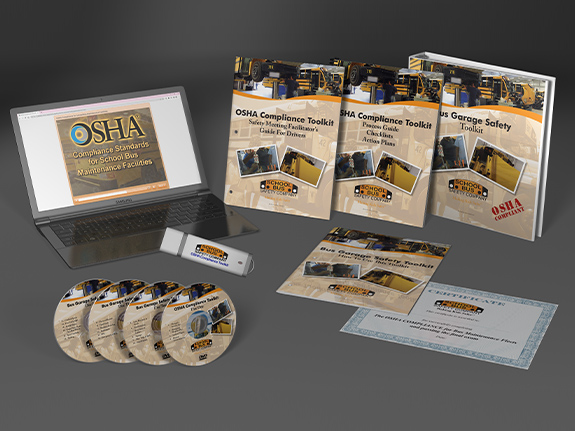 For $1,450, the toolkit provides education and training materials addressing 22 OSHA standards that apply to maintenance facilities and 3 that apply to drivers.
The subjects covered are:
Technicians
Emergency Response Plan
Diesel Exhaust
First Aid and Bloodborne
Lockout/Tagout
Electrical Hazards     Pathogens
Forklift Safety
Hazards Communication
Hand Tools
Multi-Piece/Single Rim Wheels
Lifts, Pits, Jacks and Stands
Machine Guarding
Spray Finishing
Fire Protection
Fuel Islands
Welding
Rails, Stairs and Ladders
PPE
Storage
Signage
Emergency Eyewash
Slips, Trips and Falls
Confined Spaces
Drivers         
Lockout/Tagout
Bloodborne Pathogens
Hazards Communication
"If you follow every action plan and document every action step, you'll be in compliance. It's that simple."
– Jeff Cassell, President School Bus Safety Company
The toolkit comes complete with five DVDs, a Process Guide, a Safety Meeting Facilitators Guide(Technicians), a Safety Meeting Facilitators Guide (Drivers), a Compliance Calendar and a guide on how to use the toolkit.
Call today to order or for more information 1 866 275 7272