The School Bus Driver Training Course
The Most Effective Bus Driver Training Course Available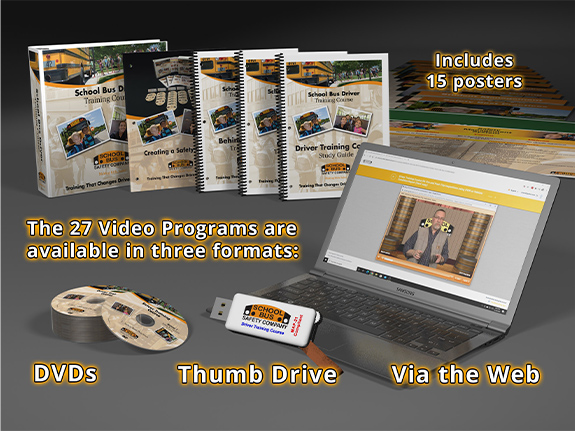 The Driver Training Course is comprised of 26 integrated topics that cover almost everything a school bus driver needs to know to do their job the right way, the first time, every time. When used as explained in the guides, this course will change the behavior of your drivers and help them to remove or reduce risk and provide a superior level of service, and improve school bus safety.
Buy the complete new course covering 26 subjects plus a final exam – $5,500 (Reduced to $5,200 if a member of a school bus state association) (See below for details of the 26 subjects.)
The School Bus Driver Training curriculum was designed and written by school bus safety experts, so it's a complete training system aimed at developing the safest and most professional school bus drivers.
Order now and we will contact you for payment information
The Driver Training Course includes everything you need to prepare your drivers to be the best they can be. Quality videos depict realistic situations and model correct behavior. Animations and discussion pages enhance the learning points. Quizzes allow for knowledge checks. Wall posters provide ongoing reinforcement of the most important points.
Subjects covered under each function
Safety and Defensive Driving

LLLC Defensive Driving

About the Bus

Meet The Bus
Pre & Post Trip Inspections
Mirror Adj & Ref points
Check Your Brakes

About Driving Situations

Intersections
Safe Backing
Railroad Crossings
Danger Zones
Pedestrian & Bicycle Safety
Adverse Conditions
Mountain Driving

About the Driver

Driver Fatigue
Driver Distractions
Preventing Harassment
Drugs & Alcohol

About the Children

Safe Bus Stops
Student Management
Extreme Student Behavior
Sleeping Children
Power Lines
Preparing Students to Learn

When All Else Fails

Emergency Evacuations
Post Accident Procedures
ELDT Supplement
Final Exam
Each course contains 26 instructional videos, a final exam, and 15 educational posters. In addition, the kit includes:
A Driver Study Guide: This guide is used in the classroom, in the yard, and during the behind-the-wheel skills-based training. It includes a complete and accurate description of every major skill in the course. [One guide is included. You'll want to purchase one for each new driver you train.]
A Classroom Trainer's Guide with instructions on how to teach each lesson.
A Behind-The-Wheel Trainer's Guide that explains how to coach a driver behind-the-wheel to achieve professional performance improving school bus safety.
You can order now via our online shopping cart, or you can call 1 866 275 7272 or fax 1 234-284-2989 or email your order.
NOTE: You can only order copies of the guides, or additional posters in addition to the full course. Guides or posters will not be provided on their own.
Bus drivers play a crucial role in the safe transportation of students to and from school.  School Bus Safety Company's curriculum is designed with safety at the forefront of everything taught so that you can be sure your drivers are well-equipped for the task at hand. Order now to start preparing your drivers.