Map-21 Compliance
Driver Training Course Supplement
From the School Bus Safety Company
We have now created a supplemental course covering any item, not already included in our Driver Training Course.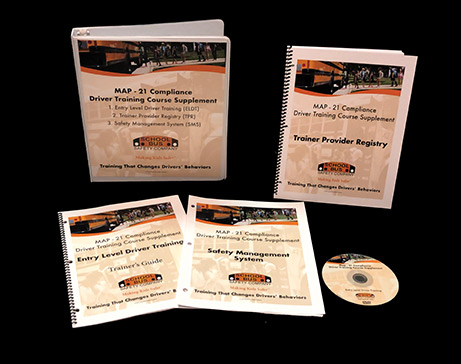 Subjects covered under each function
Safety & defensive driving

LLLC Defensive Driving

About the Bus

Meet The Bus
Pre & Post Trip Inspections
Mirror Adj & Ref points
Check Your Brakes

About Driving Situations

Intersections
Safe Backing
Railroad Crossings
Danger Zones
Pedestrian & Bicycle Safety
Adverse Conditions
Mountain Driving

About the Driver

Driver Fatigue
Driver Distractions
Preventing Harassment
Drugs & Alcohol

About the Children

Safe Bus Stops
Student Management
Extreme Student Behavior
Sleeping Children
Power Lines
Preparing Students to Learn

When All Else Fails

Emergency Evacuations
Post Accident Procedures
Final Exam
Providing the training for the subjects included in the supplement will take around 60 minutes, as most subjects we had not included in our Driver Training Course are minor subjects.
Each Kit Includes:
The combined programs are available from SBSC for only $500 plus shipping costs.
You can order now (we'll bill you!) via our online shopping cart or you can download the order form and call, fax or email your order.